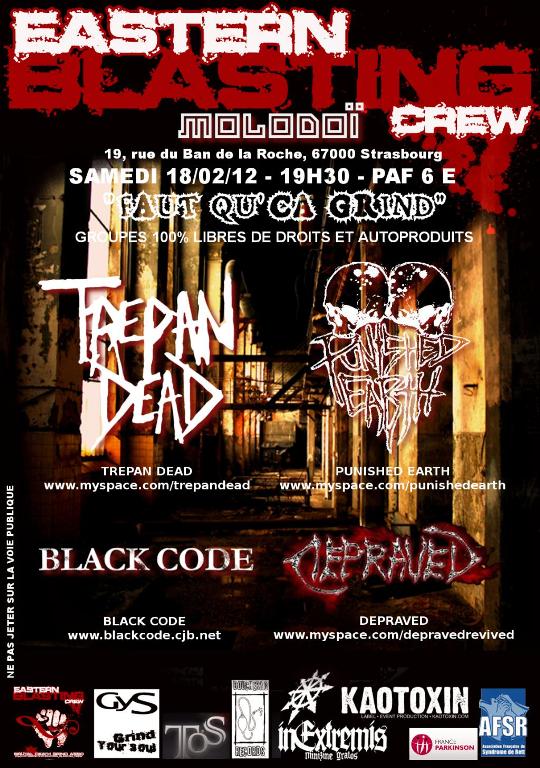 ---
RUNNING - ORDER
19h00 = OPEN DOORS
19H30 - 20H00 = DEPRAVED
20H15 - 21H00 = BLACK CODE
21H15 - 22H00 = PUNISHED EARTH
22H15 - 23H00 = TREPAN DEAD
00H00 = CLOSED
---
TREPAN DEAD
http://www.facebook.com/trepandead
http://www.myspace.com/trepandead
PUNISHED EARTH
http://www.facebook.com/pages/Punished-Earth-official/280761186914?sk=app_178091127385
http://www.myspace.com/punishedearth
BLACK CODE
http://www.blackcode.cjb.net/
DEPRAVED
http://www.facebook.com/pages/Depraved/155479324507495
http://www.myspace.com/depravedrevived
---
EASTERN BLASTING CREW SUPPORT AND RESPECT The crew below !!
KAOTOXIN
http://www.facebook.com/kaotoxinrecords
DOUCHEBAG RECORDS
http://www.facebook.com/pages/Douchebag-Records/120806884640614
IN-EXTREMIS
extremis666@hotmail.com
TOS
http://toswebsite.free.fr/
GRIND YOUR SOUL
http://grind-your-soul.com/
INFOS: http://www.myspace.com/eastern_blasting_crew
ou easternblastingcrew@numericable.fr
Pour l'occasion Eastern Blasting Crew apporte son soutien a l'AFSR et France Parkinson
Web AFSR: http://asso.orpha.net/AFSR/index2.htm
Web FRANCE PARKINSON: http://www.franceparkinson.fr/
---
SERVICE DE SECURITE
PETITE RESTAURATION
VENEZ NOMBREUX !!!!!!!
A FAIRE TOURNER SANS MODERATIONS .... MERCI !!!